Analytical approach, attention to detail, creativity and customer care - that's how I would describe our cooperation.
Katarina Mindek, Account Manager
Creating and optimizing Google Ads campaign according to our internal processes.
Campaign research, analysis, and preparation
In the research phase, we examined the market to help us understand how customers get a loan, what matters to them regarding agencies, how they choose who to work with, and generally what the market is like in the context of the Internet - whether the keywords have sufficient search volume, whether there is competition, what are the click cost forecasts, etc.
In the research phase, we got positive indices that are key to success. A high volume of keyword searches - which is a great signal because it means there is a market on Google.
Another positive signal is customer motivation. Users are motivated to solve their problem immediately. And we know – the higher the user motivation, the possibility of conversion raises.
After the research, we concluded that we have the preconditions for a successful campaign. What we needed to do is ensure that the campaign is well-placed and that we have clear points of differentiation - that the agency is imposed as the right and best solution.
Challenges we faced with:
The challenge was a lot of competition given that there are many advertisers in the field - from the banks themselves to agencies.
We had to find differentiation points in order to get a campaign that would catch user attention.
We achieved this by understanding the target user and having a good user experience on the website. A motivated user should be presented with a call to action quickly with a minimal amount of text necessary to make a decision.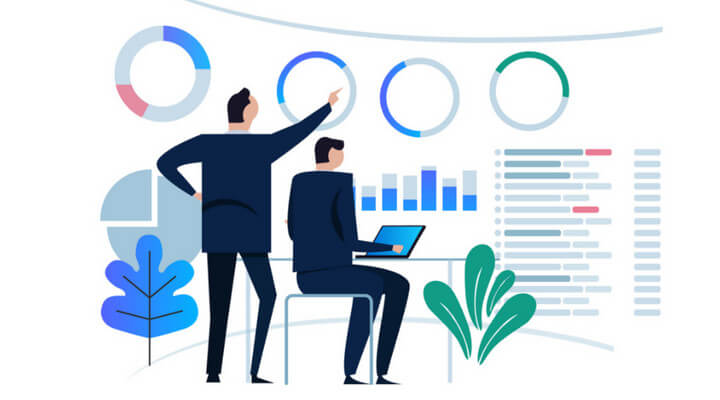 Setting up the campaign targeting the right user, at the right time in the right place.
Google Ads campaigns need to be structured so that keywords, ad groups, and ads are very closely related. That means that if a user searches for 'loan without employer certification' then they should see an ad that communicates exactly that loan line, and by clicking on the ad comes to a landing page that describes that particular offer.
Search campaigns should be closely related. On the other hand, in the initial phase of advertising, we used display campaigns, so-called Custom intent audiences. These are the users who are in the process of researching the credit offers. In addition to this display campaign, we also had a remarketing campaign for users who visited the web site but did not convert.
Smart Display has proven to be an excellent choice in this case. The downside of the Smart Display campaign is that there is not much room for settings customization. So these campaigns are not as good if you target a specific demographic. Smart Display uses both remarketing and Gmail ads. We only had Smart display campaign, and it turned out to be better because we had 31% more conversions within the same budget.
Choosing bids and attribution models
Automatic and manual bidding
Manual bidding allows us to determine how much we're willing to pay per click on our own. The advantage of manual bidding is better control, but the downside is time, as bids are manually adjusted for each keyword, device, audience... which can take a lot of time.
Automatic bidding, on the other hand, means that Google automatically determines bids based on the goal you set (conversions - increasing conversions, CPA, target ROAS, increasing traffic, or increasing visibility).
What is attribution and what attribution models exist
It is very important to understand attribution and how people buy online today. In some rare cases, the customer makes a purchase immediately at the first visit. That's why it is important to take the whole context into account and understand each part that contributed to the conversion.
If the wrong attribution model is used, then the wrong campaign optimization decisions can be made.
For example, a user types 'credit loan' into the Google search and comes to Euro Finance website. Doesn't convert because he wants to do some more research. So after a while, he visits Google again, types in the brand name keyword 'Euro Finance' and converts. According to the last-click attribution model (which is most commonly used), the conversion is assigned to the keyword 'Euro Finance.'
We can make the wrong decisions because according to the data we see in analytics, the keyword 'credit loan' has few conversions and we can judge it to be ineffective (high cost, low conversion, CPA too high).
That would be a wrong decision because the very word 'credit loan' contributes to the conversion, and in this case, it was assisted conversion.
This should not be neglected, and we should, therefore, choose the appropriate attribution model. These are attribution models that can be used:
Last Click - Attributes all conversion credit to the last clicked keyword

First Click - Attributes all conversion credit to the first clicked keyword

Linear - Distributes conversion credit evenly to all clicks along the way

Time Decay - Attributes more to the clicks that occurred earlier in the conversion

Position-based - Attributes 40% of the credit to the first and last clicked keyword, and distributes the remaining 20% ​​evenly to other clicks along the way

Data-Driven- Attributes credit to clicked keywords depending on how inevitable they were in the conversion process
Creating an attribution model is only available for search and Shopping campaigns.
Which model to choose?
Ideally, it is data-driven attribution which is the most advanced model. But as it's necessary to meet the requirement of 600 conversions per month, it cannot always be implemented.
The model should be selected depending on your business and how people convert on your website. To find out, review the 'Days to Conversion' and 'Hours to Conversion' data in the Time Lag report to gain insight into user behavior when searching. The 'Top Paths' report is also very important. Instead of time to conversion, you can look at clicks on your conversion path.
As for bidding, our preference is always smart bidding. So in our work, we focus more on landing page strategy and optimization. Our first choice is target CPA bidding. We tested target CPA for a sufficiently long period, but classic max CPC bidding still turned out to be better. We defined our priority keywords and went max CPC with them. Target CPA bidding was present in the Display campaign.
In terms of conversion, we simply measured the forms filled and click to call from the mobile web site. For click to call Last click attribution was used. For the filled forms, we used the 'position-based' model.
Landing page optimization
We need to understand that Google Ads is a tool that brings targeted visitors to the site. But whether a visitor becomes a customer depends on the quality of the offer, or the landing page. Landing page is where the conversion happens and Google Ads needs to bring a relevant visitor to the page.
10 ways to improve landing page conversions
1. Create a unique, valuable offer that is easy to understand and hard to refuse. Highlight the unique benefits you offer to the customer.
2. Point out how your company is different and better and why your visitor should chose to work with you.
3. Increase credibility - create a professional and beautifully designed site as it raises customer confidence, highlight positive customer testimonials, number of satisfied customers, years of experience, recognized certificates, guarantees (if any), emphasize that the site and purchase are safe, etc.
4. Highlight call to action.
5. Eliminate distraction - only those elements that contribute to the conversion should be present on the landing page. Reduce choice and distraction and focus on the goal that the visitor needs to accomplish.
6. Limit your offer in time or quantity to motivate the user to respond quickly.
7. Use quality and authentic images.
8. Implement live chat.
9. Keep in mind the other important details, too - fast and mobile-friendly page. Fast pages contribute to better conversion and get better positions on Google.
10. Implement analytics, track user behavior on the page, and optimize for even better results.